EXO
EXO-K, EXO-M
Origin
Seoul, South Korea
Labels
SM Entertainment (2012–present)
Active
2012–present
Members
EXO-K: Suho, Kai, Sehun, Baekhyun, D.O., Chanyeol
EXO-M: Kris, Luhan, Tao, Chen, Lay, Xiumin
Fanclub
EXO-L
Fancolor
Silver
Website
EXO-K
EXO-M
EXO is a boy group from S.M. Entertainment. EXO itself is a composite of two separate groups, EXO-K, and EXO-M, that sing in Korean and Mandarin Chinese respectively. The group simultaneously debuted in China and South Korea on 8st April 2012, with the mini-album Mama. Edit
Pre-debutEdit
The group was initially announced as set to debut in early 2011. The project name for the group was M1 (for EXO-K) and M2 (for EXO-M). S.M. Entertainment producer Lee Soo-man outlined plans for simultaneous debuts for the two groups. The debut was delayed, and it was set for early 2012. In December 2011, teasers began to surface concerning the members and a large number of video teasers were produced highlighting the talents of the individual members.
2012: Debut and MamaEdit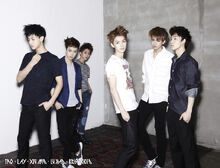 As part of the teaser process, two "prologue singles" were released as digital singles. They were "
What is Love
", a duet between members in their respective bands, and "
History
". Both songs managed to chart on the
Gaon chart
, although only "
History
" charted on China's
Sina charts
.
Two showcases, one in South Korea for EXO-K and another in China for EXO-M, were held prior to the release of the mini album Mama on April 9, 2012. EXO-K had their debut performance on Inkigayo, and EXO-M first performed at the Yinyue Fengyun Bang Awards. The title track "Mama" was used as the promotional-song for the album. The mini album took the number one spot in South Korea, and ultimately sold 90,000 combined copies of the EXO-K and EXO-M versions. In addition, the album charted at number 2 in China, number 8 on the Billboard World Albums chart, and number 33 on the Oricon albums chart.
2013: Comeback and Wolf Edit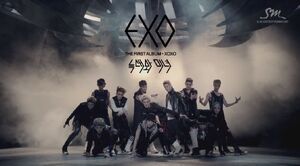 Their full-length album
 XOXO
signalled the group's comeback for 2013. Teaser photos were released on May 15, 2013, the images incorporating a schoolboy theme. The first music video teaser for "
Wolf
" was uploaded to the SMTOWN YouTube channel on May 23, 2013, the full Korean and Chinese versions on May 30, 2013. The new album ranked high on music charts such as MelOn, Naver's Music and Monkey 3. Live performances to promote Wolf took place on May 30, 2013 at
M! Countdown
and June 1, 2013 for
Music Core
. All 12 EXO members were guests on KBS
Kiss The Radio
on May 30, 2013.
2014:Overdose Edit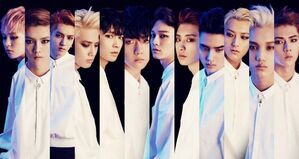 On 1 April 2014, SM Entertainment announced that EXO will be having a comeback on April 15. The company then began to reveal individual teaser photos. The title track of the upcoming album will be called "Overdose". On April 15 at 8PM (KST), EXO held their comeback showcase, broadcast live online through Samsung Music, where they revealed their performance and music video for "Overdose" for the first time. They also performed to their major hit songs. EXO-K and EXO-M will be separate for promotions for "Overdose," promoting in Korea and China at the same time. Due to South Korea's ferry accident, EXO-K who originally scheduled to make their comeback stage on April 18 at Music Bank, on April 19 at Music Core and on April 20 at 
Inkigayo
 have decided to postpone to next week. EXO-M will attend their comeback stage at Global Chinese Music on April 19 as scheduled. Their 2nd mini album which suppose to be released online and offline on April 21 also have been rescheduled to May 7, 2014.
EXO's "Overdose" performed exceptionally well on real-time music charts, achieving an 'all-kill' within just seven hours of its release. 
In May 2014 member Kris has started a lawsuit against S.M. Entertainment to nullify his contract, as of the submission date of the lawsuit the band promotes with 11 members.
Edit
In October 2014, EXO-M member Luhan filed a lawsuit against S.M Enteratinment to nullify his contract,due to health issues.The band continues to promote with 10 remaining members
EXO is made up of twelve (now nine as of 2015) members.
Suho (born Kim Junmyeon, May 22, 1991): leader, lead vocalist
Baekhyun (born Byun Baekhyun, May 6, 1992): main vocalist
Chanyeol (born Park Chanyeol, November 27, 1992): main rapper
D.O. (born Do Kyungsoo, January 12, 1993): main vocalist
Kai (born Kim Jongin, January 14, 1994): main dancer
Sehun (born Oh Sehun, April 12, 1994): lead dancer, rapper, maknae
Kris (born Wu Yi Fan, November 6, 1990): leader, main rapper (INACTIVE)
Xiumin (born Kim Minseok, March 26, 1990): lead vocalist
Luhan (born Lu Han, April 20, 1990): main vocalist (INACTIVE)
Lay (born Zhang Yixing, October 7, 1991): main dancer, vocalist
Chen (born Kim Jongdae, September 21, 1992): main vocalist
Tao (born Huang Zitao, May 2, 1993): lead rapper, lead dancer (INACTIVE)
Discography
Edit
Main article: EXO discography
Mini-albums
Edit
Studio albums
Edit